The mapping Network hydrographic survey dredging watershed sediment surveying
The mapping Network hydrographic survey dredging watershed sediment surveying
SEDIMENT SURVEYS | creating maps depicting volume
What is sediment mapping? In simple terms, we measure, model, and describe the physical features of water bodies as well as predict change over time. Reservoir sedimentation is a complex process that varies within each watershed.  It reduces water volume capacity for flood control, drinking water storage, recreation, power generation uses, etc.  Sedimentation also has dramatic effects on the ecology, recreation and aquatic vegetation.
The Mapping Network has extensive experience modeling the accumulation of sediment in lakes, ponds, reservoirs, and rivers.  Using a combination of sonar and manual techniques, we are able to accurately quantify the amount of sediment in your water body.
For most water bodies, it's not a question of if you will need to remove sediment, it's a question of when.  We recommend having a sediment survey completed before you notice a problem, that way you can plan accordingly for future dredging.
Putting off a sediment survey can be a costly mistake. Without a proper assessment prior to a dredging project, it's impossible to determine an appropriate cost. Take control of the dredging process and make the best decisions possible by obtaining accurate information of your water body with a sediment survey.
PRE/POST DREDGE SURVEYS
Since dredging takes place below the surface of the water, it can be quite difficult to determine if your objectives are met. Don't leave the pre and post-dredge survey up to the contracted dredger.  It's important to hire an independent, third-party specialist to ensure that agreed upon specifications are met during the dredging process.
The Mapping Network has over 20+ years of extensive experience in various inland, freshwater environments. We have a proven track record in providing high-resolution hydrographic surveys that comply with International Hydrographic Organization (IHO) standards and US Army Corps of Engineer Hydrographic Surveying Manual EM1110-2-1003 standards.  Our quality assurance and quality control (QA/QC) procedures meet or exceed local, state, federal and country requirements.  
Throughout the years, we have invested heavily in survey equipment.  All of our sonar equipment records "backscatter" allowing our analysts to review and ensure the sonar is tracking the reservoir floor.  This is crucial to the accuracy of the survey because of the various factors that can interfere with the sonar (vegetation, liquid sludge, etc). 
Hydrographic information has a variety of uses including a baseline for monitoring sediment, water volume, management, biologic, and dredging activities.
The Mapping Network's philosophy of high standards and accountability does not end with survey equipment and practices. We also recognize the importance of post-processing methods, modern reporting and data display to benefit our partners and clients over-all end goals.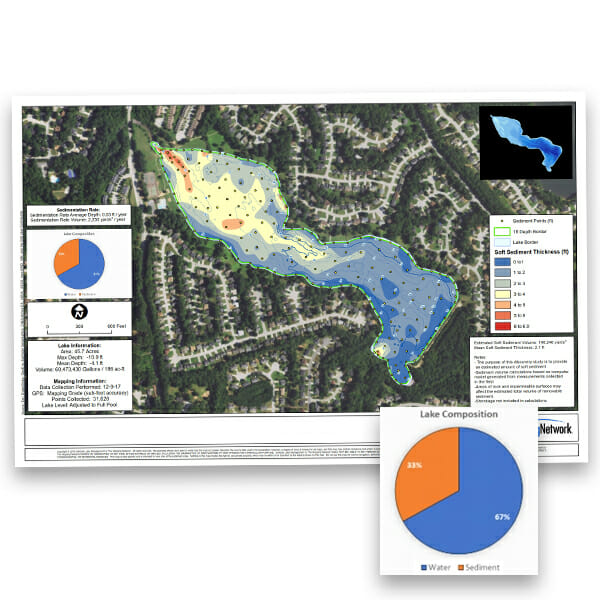 Accurate. Professional. Complete. Trusted for over 20 years.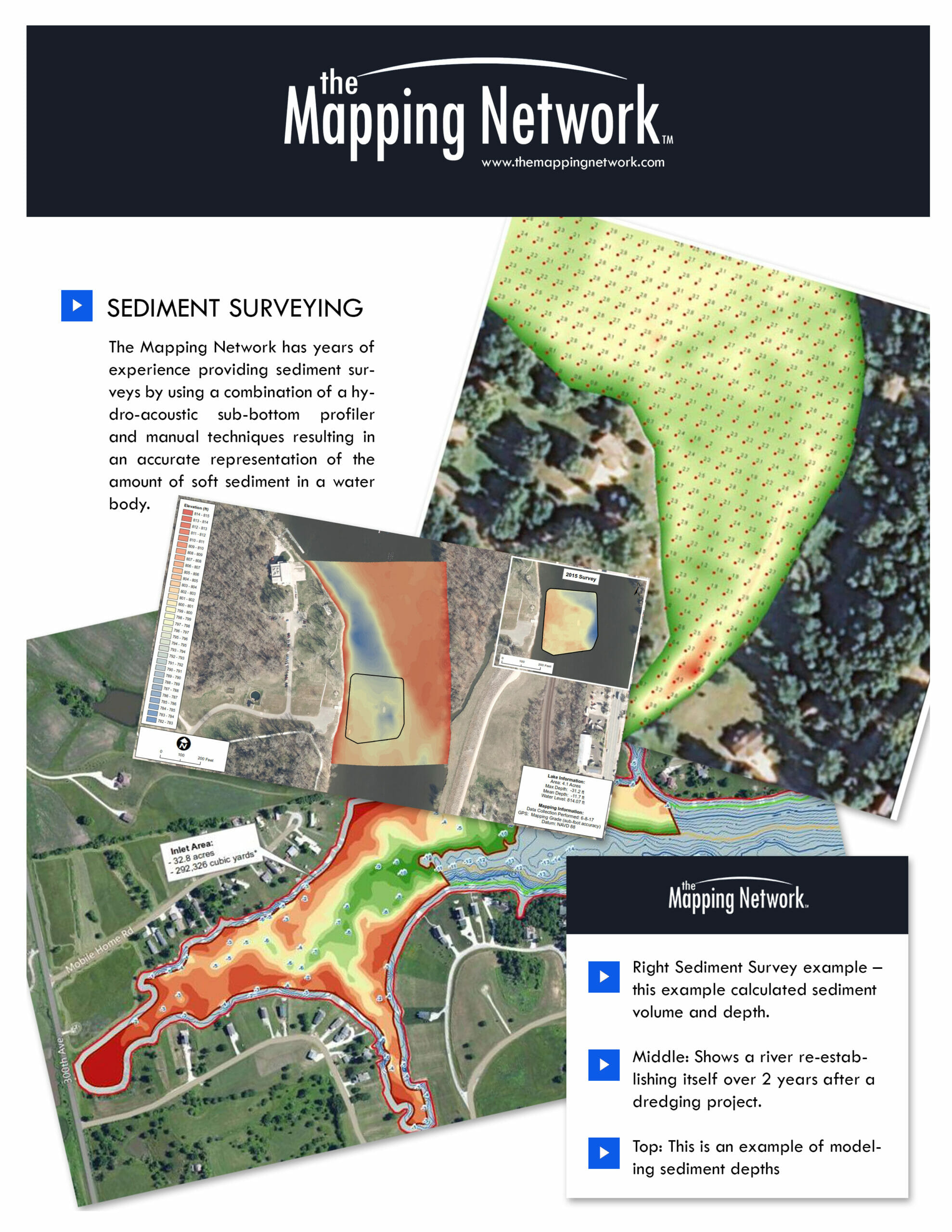 Sediment Mapping Service Highlights
Measure. Model. Predict.
Who Needs this?
Lake managers
Dredging Companies
Engineers
Construction Companies
Home Owners Associations
and anyone with waterfront property
Services Provided
Single-Beam | Dual-Beam | Multi-Beam
Side Scan
Bathymetric models
Water volume calculations
Monitor Sedimentation rate
Watershed Studies

Produce critical water management information
Construction and dredging
Drinking water reservoirs
Coal Power Generating Facilities
Lake and Pond Management
Water Treatment and Irrigation
Aquatic Weed Management
Fisheries Management