Certified Hydrographic Survey and Sediment Map – Solitude Lake Management
Solitude Lake Management completed a certified hydrographic survey and sediment survey as part of a dredging analysis report.  This 29 acre lake, originally built in the early 1900's has an average water depth of 2.6 feet.  Through sediment sampling, the average soft sediment thickness is 2.1 feet.  Over time the lake has lost almost half of its original capacity to sediment.  The estimated sediment volume was calculated and shown on a map.  This will allow engineers to create an efficient removal plan.  Dredging contractors can bid with confidence on how much sediment is actually in the lake.  The homeowners will ultimately benefit most from having an initial hydrographic survey because they will be able to control the project from start to finish – taking out the guess work and making sure their lake is restored for the lowest cost possible.
phone: (866) 697-2584
website:  http://www.solitudelakemanagement.com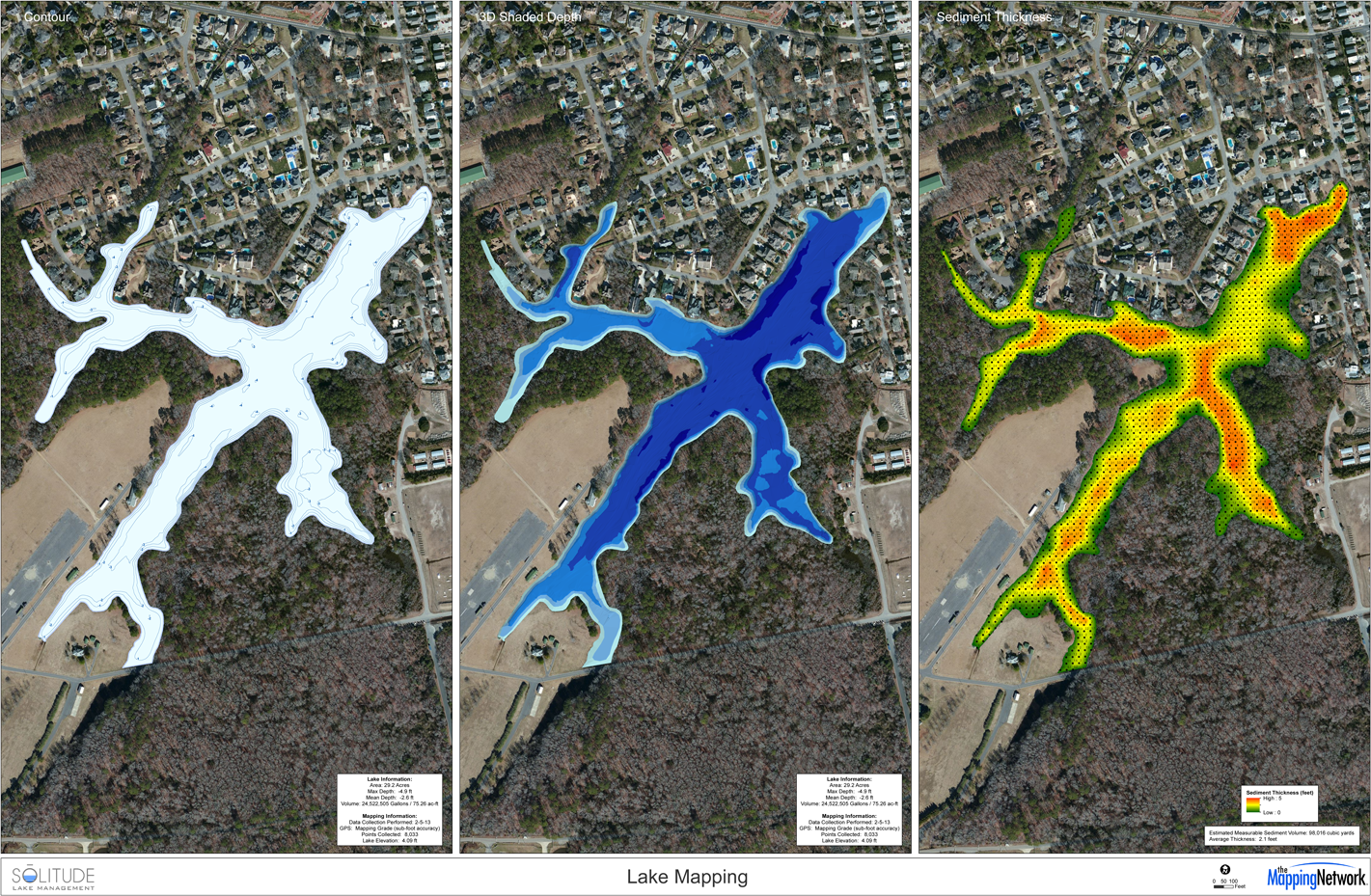 To learn more about our Sediment Mapping here >> Sediment Mapping Detailed
The Mapping Network is an industry leader in Geographic Information Systems Consulting, Data Conversion, and GPS Data Collection.  We specialize in terrain and sub-surface (bathymetry) GPS mapping.   If you are serious about maintaining  a high-quality golf course, lake or pond, be sure you have the ability to make the best decisions,  get your resource mapped by the professionals at The Mapping Network.   Give us a call or send an e-mail to find out more details.
phone:  (402) 241-8177
e-mail: info@themappingnetwork.com
website: www.themappingnetwork.com
Check out The Mapping Network on Facebook for more examples and success stories!
For the best results in mapping, it's best to consult with a lake management company equipped with the very latest in GPS mapping technology.  Along with standard contour maps, The Mapping Network creates virtual media solutions on YouTube including a fly-over video and virtual underwater virtual swim-through.  With this knowledge, you can add layers of depth to the information you seek to maintain a beautiful lake.