Hydrographic Survey and Sediment Analysis in Oklahoma
The Mapping Network and Pond Medics complete project for POA in Oklahoma using specialized sub-bottom mapping system

A property owner association in Oklahoma with a 50 year old lake is struggling with the challenges associated with sediment buildup in their lake.  Using The Mapping Network's sub-bottom mapping system, the POA was not only able to see the contours of the lake but gain an understanding of the sediment distribution throughout the lake.   In much of the lake, half the original depth is now filled with sediment.  This technology provides critical information for the POA to make educated management decisions about how to best remove the sediment.  Below is one of several maps produced for the POA which shows the sediment depth in a color gradient.   For more information about how sub-bottom/sediment mapping can work for your lake contact The Mapping Network today!
For more information on Pond Medics, Inc. please contact:
Trent Lewis
phone: (972) 334-0104
e-mail:  info@pondmedics.com
website:  www.pondmedics.com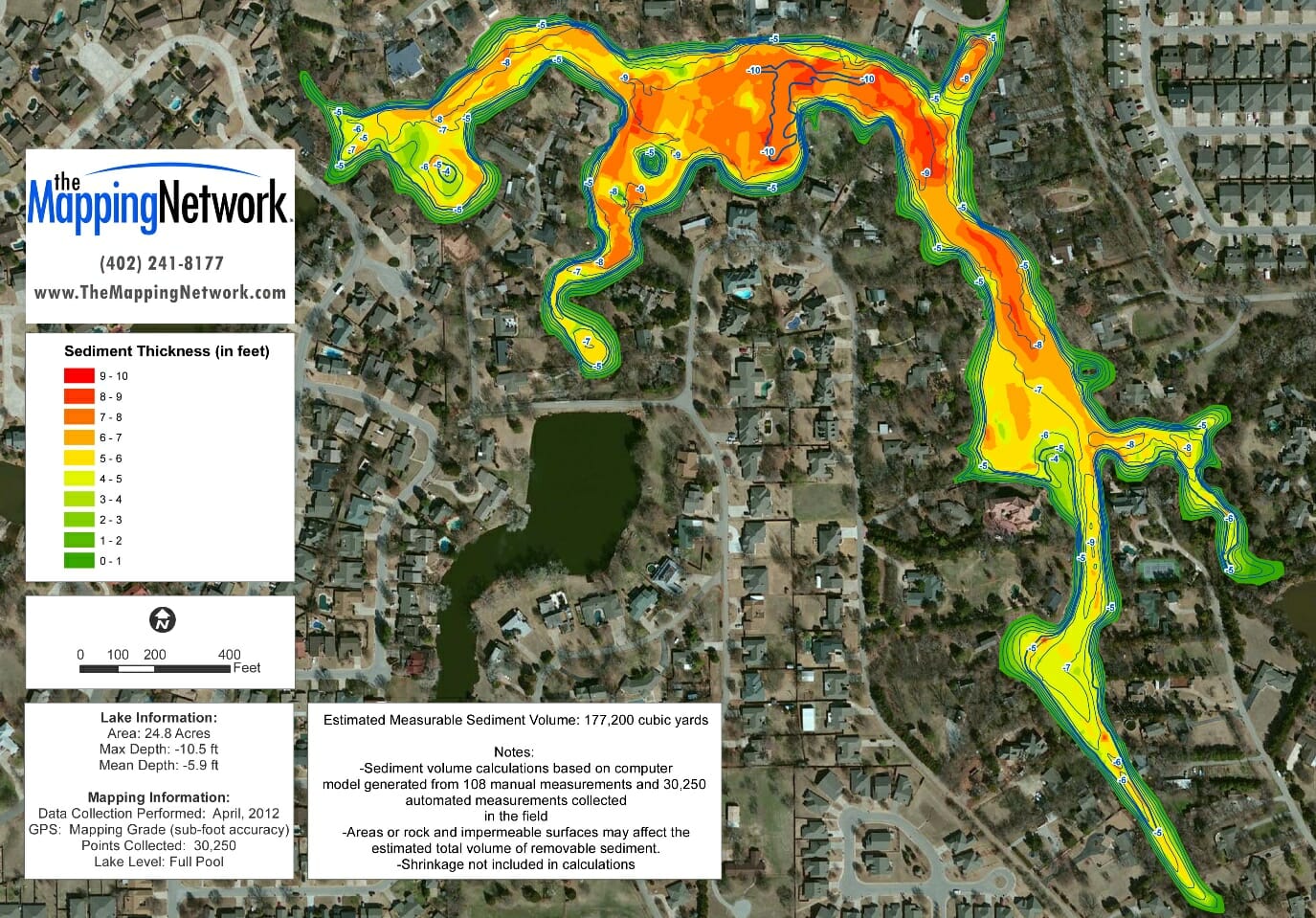 The Mapping Network is an industry leader in Geographic Information Systems Consulting, Data Conversion, and GPS Data Collection.  We specialize in terrain and sub-surface (bathymetry) GPS mapping.   If you are serious about maintaining  a high-quality golf course, lake or pond, be sure you have the ability to make the best decisions,  get your resource mapped by the professionals at The Mapping Network.   Give us a call or send an e-mail to find out more details.
phone:  (402) 241-8177
e-mail: info@themappingnetwork.com
website: www.themappingnetwork.com
Check out The Mapping Network on Facebook for more examples and success stories!
The Mapping Network is proud to announce their firm has been chosen by Cabela's, the World's Foremost Outfitter, as a Landowner Services provider for Cabela's Trophy Properties throughout the United States.  Visit us on the Cabela's Trophy Properties website >> click here
The Mapping Network:  www.TheMappingNetwork.com
A Nationwide Network of GPS Mapping Professionals