Lake Bathymetry in St. Louis, MO
Using a GPS Lake Map to Create Management Plan
Jim Darlington, President of Leisure Ponds, mapped a pond in the St. Louis area for a residential Home Owners Association.
The pond surveyed was approximately 2.7 acres and had shown warning signs of sedimentation.  GPS Lake mapping was conducted on site to reveal the true lake depths of the ponds.  In addition to the bathymetric survey, sedimentation depths were collected and a model of sedimentation levels was created to estimate the volume of sludge in the lake.  During the mapping process, the HOA found out that the middle of the lake had roughly 2 to 3 feet of sediment accumulation.  This information provided the baseline depth profile needed for long-term sedimentation monitoring and dredging plans.  The mapping techniques utilized in this project allows Leisure Ponds to accurately isolate areas of high sedimentation for removal and help lake managers budget accordingly.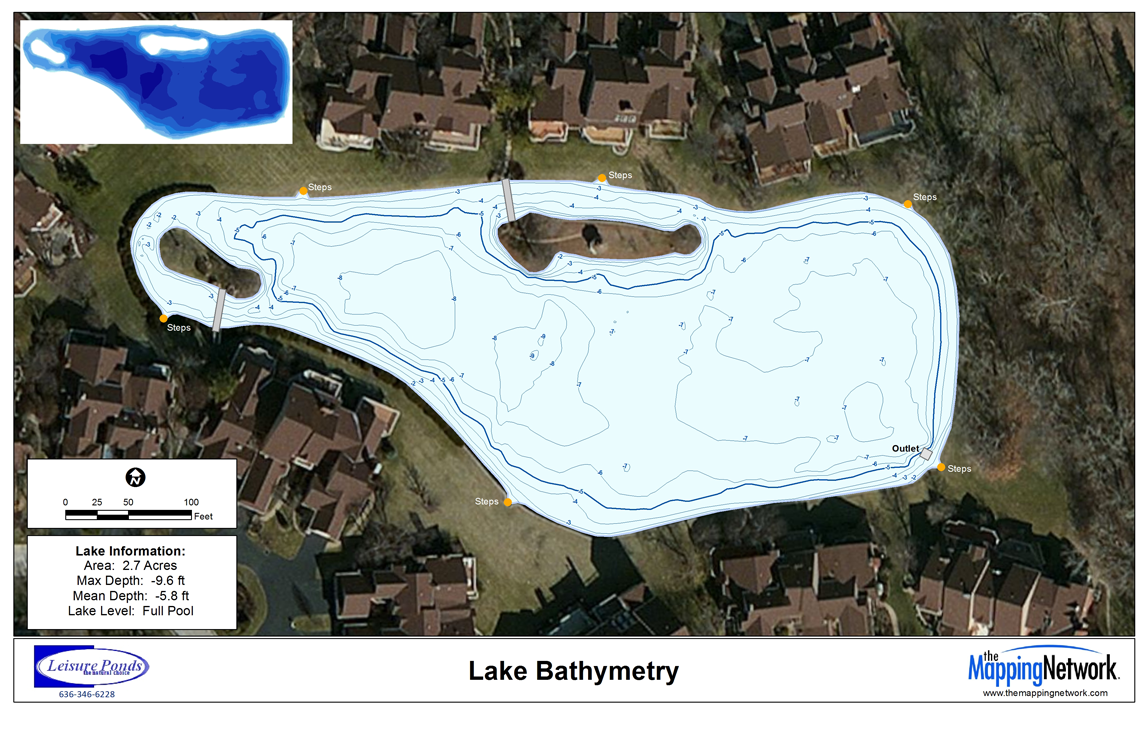 Leisure Ponds specializes in improving the functional and aesthetic value of urban problem ponds.  For more information on Lake Mapping and Management in the St. Louis area please contact:
Jim Darlington
636-346-6228
The Mapping Network is an industry leader in Hydrographic Surveys, Bathymetry, Geographic Information Systems Consulting, Data Conversion, and GPS Data Collection.  We specialize in terrain and sub-surface (bathymetry) GPS mapping.   If you are serious about maintaining  a high-quality golf course, lake or pond, be sure you have the ability to make the best decisions,  get your resource mapped by the professionals at The Mapping Network.   Give us a call or send an e-mail to find out more details.
phone:  (402) 241-8177
e-mail: info@themappingnetwork.com
website: www.themappingnetwork.com
Check out The Mapping Network on Facebook for more examples and success stories!
The Mapping Network is proud to announce their firm has been chosen by Cabela's, the World's Foremost Outfitter, as a Landowner Services provider for Cabela's Trophy Properties throughout the United States.  Visit us on the Cabela's Trophy Properties website >> click here
The Mapping Network:  www.TheMappingNetwork.com
A Nationwide Network of GPS Mapping Professionals