Sub-Bottom Sediment Profiling Mapping System from The Mapping Network
The Mapping Networks Sub-Bottom Sediment Profiling Mapping System
True lake bottom profile can be seen with lake mapping technology
FOR DETAILED EXAMPLES CLICK HERE >> Hydrographic and Sediment Survey Information (opens as a pdf in your browser)
In 2012 The Mapping Network has successfully completed several automated sub-bottom sediment profile mapping projects throughout the United States for clients trying to quantify sediment volume and dredge planning. This mapping system logs sediment and water depth readings simultaneously, allowing The Mapping Network to chart the lake bottom with remarkable accuracy.
Lake owners are able to have a clear understanding of how much sediment is in the lake and where it is located.
Sophisticated lake mapping technology allows owners to fully understand the severity of the sediment issues when planning a dredging project
Mapping the bottom of the lake can also reveal areas of concern and optimal times when dredging will be necessary for the survival of the lake
Cubic yardage calculations of sediment for each removal area are rendered
Choosing important areas to dredge, based on up-to-date, accurate information allows for a focused dredging effort, saving money
Dredging companies then use this information to accurately bid and complete projects.
Mapping lake sediment with this technology saves time, money, and materials by being informed and efficient with the dredging process.
Due to the large expense dredging is for lake owners, this new technology has helped owners save time and money and more effectively budget and plan for projects.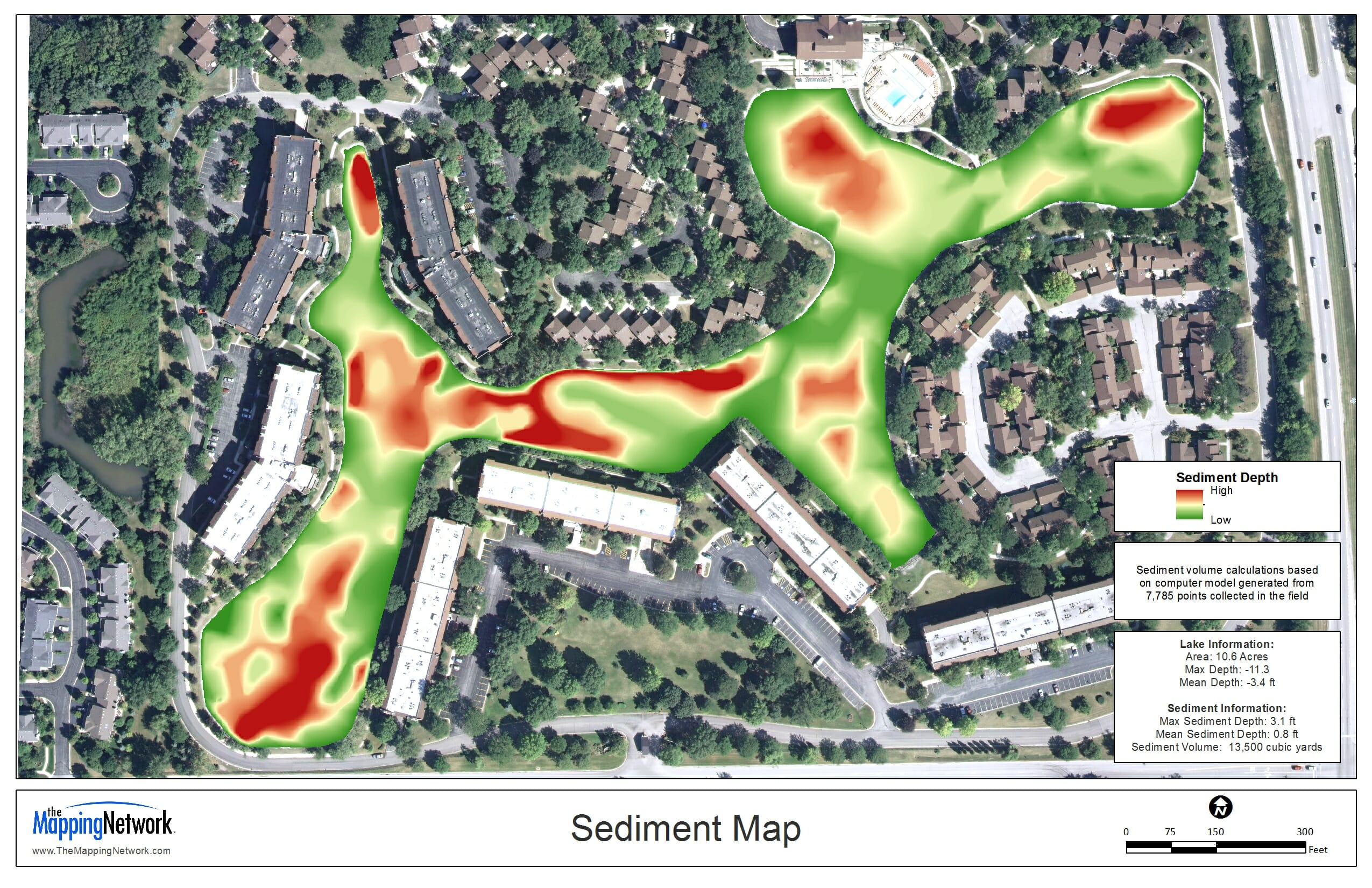 About The Mapping Network
The Mapping Network, LLC is a business organized to perform Hydrographic and Sub-bottom profile surveys on lake and river systems for a wide range of clients throughout the United States. We operate from our office in Omaha, Nebraska along with fifteen highly trained Lake Management companies located around the country. We provide this service for a variety of client needs including generating bathymetry, sediment, and water volume information.
The Mapping Network works directly with government organizations, lake associations, engineers, developers and dredging companies. Our company and personnel have been leaders in the development of tools and technology for hydrographic survey systems for over a decade.
Since 1999, the staff at The Mapping Network began linking hydro-acoustic depth measuring equipment with Differential and RTK GPS receivers to create accurate and up to date bathymetry maps. Over the ensuing years, this technology has improved and our company has remained on the cutting edge of utilizing these systems to produce very accurate and cost effective bathymetry and sediment surveys.
phone:  (402) 241-8177
e-mail: info@themappingnetwork.com
website: www.themappingnetwork.com
CLICK HERE >> Hydrographic and Sediment Survey Information (opens as a pdf in your browser)
Check out The Mapping Network on Facebook for more examples and success stories!
The Mapping Network is proud to announce their firm has been chosen by Cabela's, the World's Foremost Outfitter, as a Landowner Services provider for Cabela's Trophy Properties throughout the United States.  Visit us on the Cabela's Trophy Properties website >> click here
The Mapping Network:  www.TheMappingNetwork.com
A Nationwide Network of GPS Mapping Professionals
Hydrographic Surveying
Sediment Surveying
Sub-Bottom Profiling
Side Scanning Sonar Data Collection
Lake Bottom Hardness Analysis
Capacity Curve Analysis
Sediment Quantity Analysis
Invasive Vegetation Mapping
Land Mapping
Bio-Volume Vegetation Mapping
SonarWiz, Hypack and Dredgepack Data
Profile (Thalweg) Survey
GIS Processing and Analysis
USACOE and IHO Compliant