The Mapping Network Adds Submerged Aquatic Vegetation (SAV) and Analysis
Technology allows for invasive vegetation monitoring, ecological evaluation and eradication status
FOR PRESS RELEASE CLICK HERE >> Aquatic Vegetation Survey
FOR DETAILED EXAMPLES CLICK HERE >> Hydrographic, Sediment Survey & Vegetation Mapping Information (opens as a pdf in your browser)
The Mapping Network is proud to announce the addition of an automated submerged aquatic vegetation (SAV) mapping and analysis.  Utilizing software developed by the U.S. Army Engineer Research and Development Center (ERDC-EL), The Mapping Network, and it's nationwide network of lake management professionals, have the ability to process the distinct signature of submerged aquatic vegetation (SAV) within the recorded signal to determine depth, plant height, and coverage.
"The Mapping Network is excited to offer this unique service to clients throughout the country.  We really enjoy helping people make the most of their aquatic resources." stated Steve Bartosh, President of The Mapping Network. With nationwide coverage, The Mapping Network can fulfill the demand for invasive vegetation monitoring, ecological evaluation and eradication status.
Visit our website for more Submerged Aquatic Vegetation Mapping examples >> CLICK MORE MORE INFO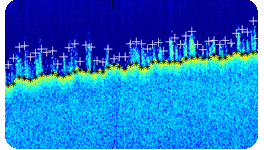 About The Mapping Network
The Mapping Network is based in Omaha, Nebraska is an industry leader in hydro-graphic surveys, bathymetry, sub-bottom profile surveys on lake and river systems, sediment mapping, submerged aquatic vegetation mapping, Geographic Information Systems (GIS) consulting, and GPS data collection.  This nationwide network of lake professionals  specialize in terrain and sub-surface (bathymetry) GPS mapping by accurately mapping bodies of water, calculating the water volume, collecting sediment depth samples at critical areas and monitoring the distribution of sediment over time.  The Mapping Network is comprised of a wide group of professionals specializing in all facets of lake management.   Give The Mapping Network a call or send an e-mail to find out more details.
Since 1999, the staff at The Mapping Network began linking hydro-acoustic depth measuring equipment with Differential and RTK GPS receivers to create accurate and up to date bathymetry maps. Over the ensuing years, this technology has improved and our company has remained on the cutting edge of utilizing these systems to produce very accurate and cost effective bathymetry and sediment surveys.The Mapping Network works directly with government organizations, lake associations, engineers, developers and dredging companies. Our company and personnel have been leaders in the development of tools and technology for hydrographic survey systems for over a decade.
Contact:
phone:  (402) 241-8177
e-mail: info@themappingnetwork.com
website: www.themappingnetwork.com
CLICK HERE >> Hydrographic and Sediment Survey Information (opens as a pdf in your browser)
Check out The Mapping Network on Facebook for more examples and success stories!
The Mapping Network is proud to announce their firm has been chosen by Cabela's, the World's Foremost Outfitter, as a Landowner Services provider for Cabela's Trophy Properties throughout the United States.  Visit us on the Cabela's Trophy Properties website >> click here
The Mapping Network:  www.TheMappingNetwork.com
A Nationwide Network of GPS Mapping Professionals
Hydrographic Surveying
Sediment Surveying
Sub-Bottom Profiling
Side Scanning Sonar Data Collection
Lake Bottom Hardness Analysis
Capacity Curve Analysis
Sediment Quantity Analysis
Invasive Vegetation Mapping
Land Mapping
Bio-Volume Vegetation Mapping
SonarWiz, Hypack and Dredgepack Data
Profile (Thalweg) Survey
GIS Processing and Analysis
USACOE and IHO Compliant