Bathymetry and Sediment Survey of a Lake
The Mapping Network and their nationwide group of partners receive many calls each week about sediment issues on lakes.  More often than not, these callers have a fairly good idea about the state of their lake from simply looking at if from the shore on while on the boat.  However, trying to quantify the severity of sedimentation and planning for a potential dredging project is much more difficult.  This is where our experienced teams come into play.  We have the tools, knowledge and experience to accurately survey the current lake depths along with mapping the sediment thickness in the lake.
Below is an example of a lake that had sediment accumulating in the usual spots (inflows) however there were a couple other problem areas where new homes had recently been built.  The HOA used this map to plan for dredging in the main inflow of the lake and also created a bulletin to property owners about the importance of controlling erosion into the lake – eventually this will lead to more dredging in the future.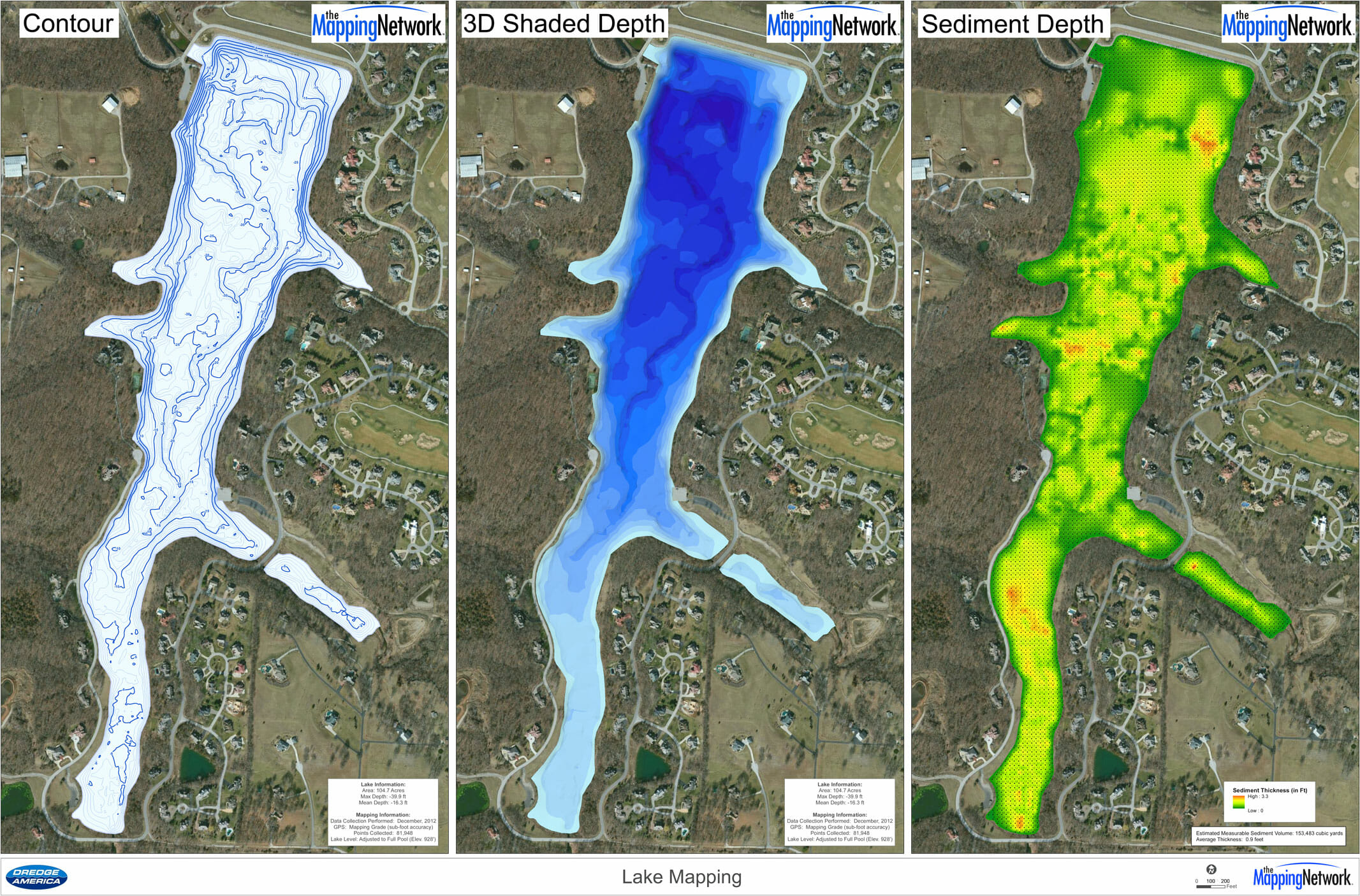 The Mapping Network is instrumental in bringing GPS lake mapping technology to the recreational market.  Their experience wit the most efficient GPS and sonar technology allows their partners, like us, to offer these unique services to our clients.  Pond Medics utilizes this lake mapping technology to reveal this unseen, underwater world.  Combining sub-foot accurate equipment and depth accuracies of up to 1/10th of a foot, we can produce a picture of what few people will ever see – the bottom of your lake.
For more information on Pond Medics, Inc. please contact:
Trent Lewis
phone: (972) 334-0104
e-mail:  info@pondmedics.com
website:  www.pondmedics.com
About The Mapping Network: 
The Mapping Network is an industry leader in Geographic Information Systems Consulting, Data Conversion, and GPS Data Collection.  We specialize in terrain and sub-surface (bathymetry) GPS mapping, and recreational Real Estate listings.   The Mapping Network is proud to announce their firm has been chosen by Cabela's, the World's Foremost Outfitter, as a Landowner Services provider for Cabela's Trophy Properties throughout the United States.  Visit us on the Cabela's Trophy Properties website >> click here   Give us a call or send an e-mail to find out more details.
phone:  (402) 241-8177
e-mail: info@themappingnetwork.com
website: www.themappingnetwork.com
Check out The Mapping Network on Facebook for more examples and success stories!