Greg Grimes (Aquatic Environmental Services, Inc) was contracted to assist with preliminary planning of a lake for a client in Georgia.   Greg said "by utilizing the lake design tools available through our partnership with The Mapping Network, we were able to see how large the lake would be, the max depth, average depth, size of the dam and also the watershed." With the map the client was able to see potential challenges with a limited watershed.  Information like this is critical when in the planning phase and now the landowner will scale back his lake plans based on the size of the watershed.   Then next step will include engineering specs and the permitting process which will ultimately lead to the construction of the lake.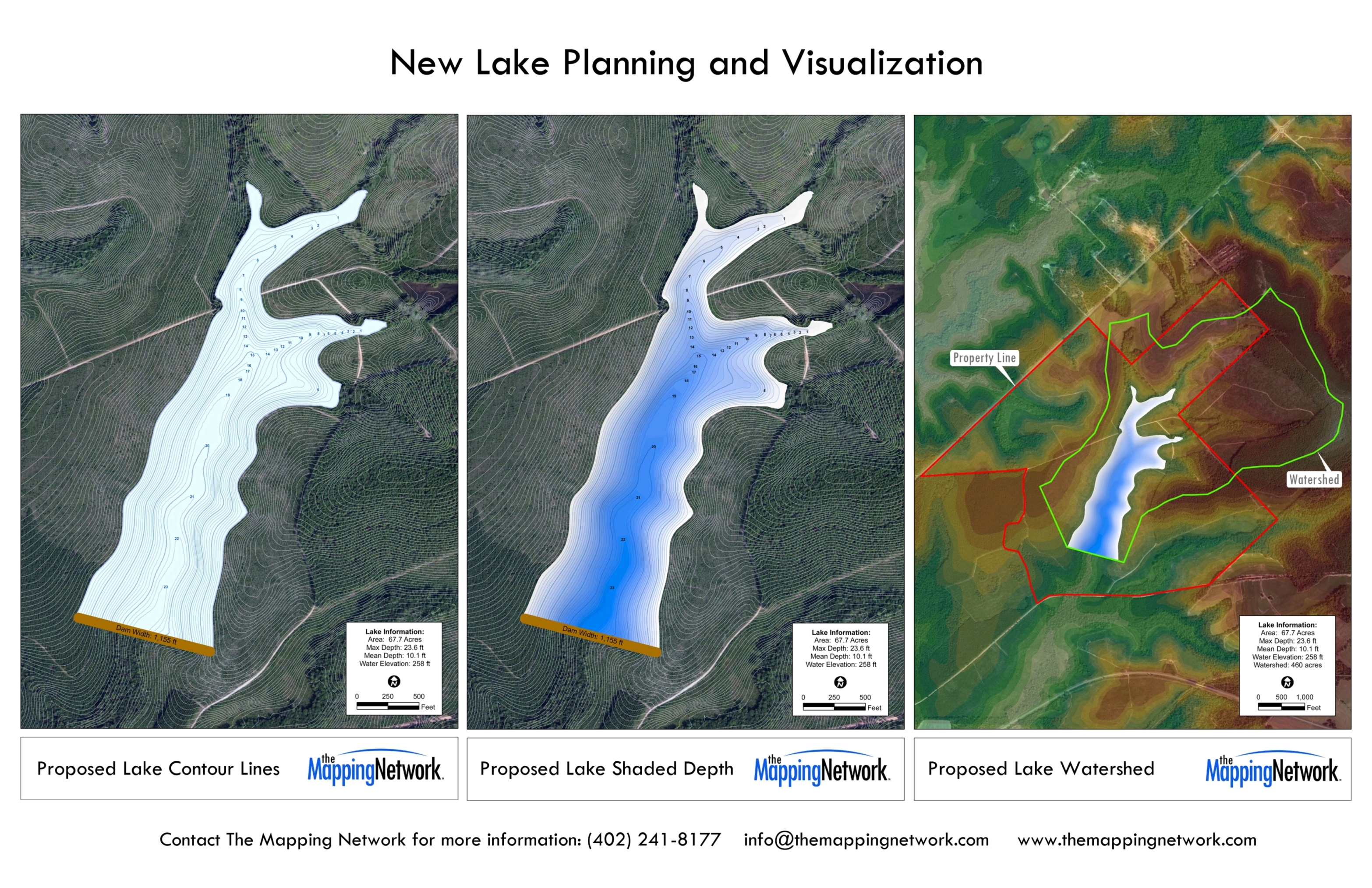 The Mapping Network is an industry leader in Hydrographic Surveys, Bathymetry, Geographic Information Systems Consulting, Data Conversion, and GPS Data Collection.  We specialize in terrain and sub-surface (bathymetry) GPS mapping.   If you are serious about maintaining  a high-quality golf course, lake or pond, be sure you have the ability to make the best decisions,  get your resource mapped by the professionals at The Mapping Network.   Give us a call or send an e-mail to find out more details.
phone:  (402) 241-8177
e-mail: info@themappingnetwork.com
website: www.themappingnetwork.com
Check out The Mapping Network on Facebook for more examples and success stories!
The Mapping Network is proud to announce their firm has been chosen by Cabela's, the World's Foremost Outfitter, as a Landowner Services provider for Cabela's Trophy Properties throughout the United States.  Visit us on the Cabela's Trophy Properties website >> click here
The Mapping Network:  www.TheMappingNetwork.com
A Nationwide Network of GPS Mapping Professionals