The Mapping Network offers "Recreational" grade mapping option
The Mapping Network is offering a "recreational level" lake mapping option for people looking for a general understanding of their lake or pond.  Data is collected by one of our lake mapping partners (find your closest provider here >>  Lake Mapping Partners) using a Lowrance HDS sonar system.    We call these recreational level maps where general contours and depths can be seen and should be used as general reference maps.  These maps provide insight into the lake bottom and can be used for basic recreational purposes.  This is a lower cost mapping option and is becoming very popular with clients around the country where the professional level of mapping is not required.   To better understand how gps accuracy influences lake mapping results see our blog here >> GPS Accuracy in Lake Mapping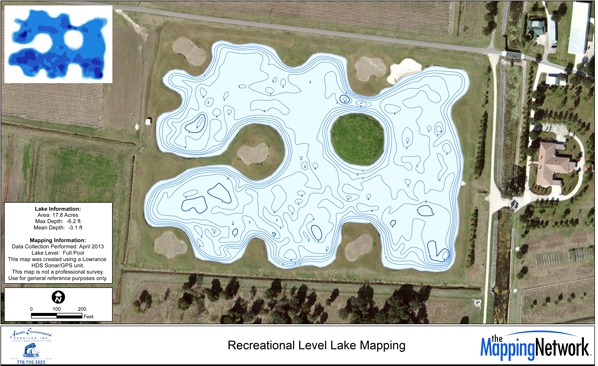 Most projects require a certain level of accuracy that we call professional grade maps.  These maps can be used to generate accurate water volume, sedimentation rates, dredging or excavation planning and verification.
The Mapping Network provides the consumer with different accuracy levels based on the needs of the project.  It is very important to understand the different types of data collection because it is a critical component to a successful lake map.
The Mapping Network is an industry leader in Hydrographic Surveys, Bathymetry, Geographic Information Systems Consulting, Data Conversion, and GPS Data Collection.  We specialize in terrain and sub-surface (bathymetry) GPS mapping.   If you are serious about maintaining  a high-quality golf course, lake or pond, be sure you have the ability to make the best decisions,  get your resource mapped by the professionals at The Mapping Network.   Give us a call or send an e-mail to find out more details.
phone:  (402) 241-8177
e-mail: info@themappingnetwork.com
website: www.themappingnetwork.com
Check out The Mapping Network on Facebook for more examples and success stories!
The Mapping Network is proud to announce their firm has been chosen by Cabela's, the World's Foremost Outfitter, as a Landowner Services provider for Cabela's Trophy Properties throughout the United States.  Visit us on the Cabela's Trophy Properties website >> click here
The Mapping Network:  www.TheMappingNetwork.com
A Nationwide Network of GPS Mapping Professionals